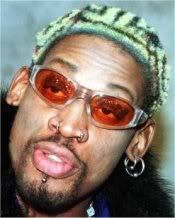 Bad Dennis Rodman. Remember him? While driving his Lamborghini in a charity rally race Tuesday, he was pulled over by coppers twice. In between, Rodman was involved in a minor crash and later accused of stealing a hat in what he says is a "misunderstanding" at a gas station in Glenwood Springs. Wtf??

A clerk at the gas station told police that Rodman tried on a cowboy hat, said he liked it, signed an autograph, then put $20 on the counter for gas. Unfortunately the total was $40...theif!

Same day he was also in a car crash when a Ford Mustang with people taking photographs and video of Rodman for his sponsor, apparently lost control and hit the bumper and the driver's side of Rodman's car. No one was hurt.

Rodman said he believed Colorado authorities were targeting him because of his flashy car and his celebrity status. He said he would fight the citations.