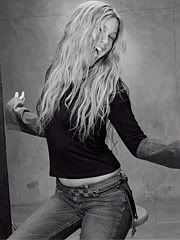 Joss Stone was fired from all the Gap ads for having "an affair with an older man." Huh?? Apparently she moved in with her 25 year old lover, music producer Beau Dozier, last year when she was still seventeen.

Well, she is eighteen now. Still, the Gap people don't like it. A source said, "People take things such as the age of consent extremely seriously. It is all good and well to have glamorous celebrities endorsing the clothes- but the backbone of Gap's business is in small towns in middle America where people are very, very conservative, especially in the Bible Belt".

Why now? Pic's are appearing of her kissing the old man. Gap sources deny all of this was the reason they dropped her.